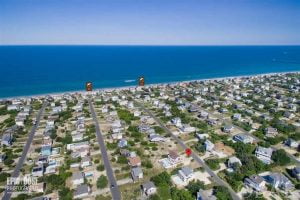 Let's talk about INVENTORY.  Most people don't realize that inventory level is the key determining factor for real estate prices.  If I had a dollar for every time someone asked about the bridge in relationship to values, I would have a whole lot of dollars!  And yes, there are a lot of factors that play into value.
For example:
Condition – buyers today don't want to fix old problems
Location – location has always been top of the list
Rentability – Not every buyer in our market cares about this, but it does help
Financing – Being able to get good terms
Insurance – Getting the best premiums makes the home more saleable
However, inventory levels trump all other factors when determining value.  Just 3 short years ago the inventory levels in Corolla were over 2 years.  Now, it's barely one month.  The old faithful supply and demand is king when it comes to prices going up or down.
Let's also realize these cycles historically (nearly 100 years worth of data) last for 20 years.  The last cycle began in 2000.  So regardless of COVID, we were due for an up market.  I do believe that COVID accelerated what should have taken 3 years to get where we are into 2 years.  That being said, the last up cycle lasted for 5 or 6 years.  It's not clear how long this one will last.  Especially with everything going on, who knows.
What we do know is that watching the stats is the same as having a crystal ball.  Nothing can change until inventory levels change.  That doesn't look to move any time soon.  We are just beginning the spring market where our inventory usually increases by 30%.
Here's the number of homes currently for sale and under contract for each area.
Area                For Sale           Under Contract
Corolla –           22                    86
4 Wheel –         8                      8
Duck –              13                    23
Southern Sh     10                    16
Kitty Hawk      9                      8
KDH                 12                    53
Nags Head       12                    26
These numbers still blow my mind!  We all want to know what's going to happen.  Here's what we can count on, what goes up, must come down.  The big question is WHEN?  My answer, watch the inventory and you'll know.  When we get back to 4 to 6 months, that's when it will start.
Meanwhile, if you have any questions about buying or selling in this crazy market, give me a call!