A Great Day At The Beach…Outer Banks Style


Corolla
Native Indian tribes used the barrier island for fishing and hunting grounds. When Europeans came to Corolla, it was known as Jones Hill. Named after the center of a flower, Corolla was also known as Whalehead or Currituck Beach. Today, Corolla is more then land for hunting and fishing; it is a prime resort area with water sports, golf, and many other activities. Mostly locally owned and operated, shop at the unique shopping centers of; TimBuck II Shopping Village, with water sports and go carts; Monteray Shores Shopping Plaza, with wall climb and movie theater; and Corolla Light Town Center, complete with a skate park. Take the time for a relaxing spa treatment at the Sanderling Spa, sure to enhance any vacation.
To experience the natural and historic Corolla, The Currituck National Wildlife Refuge located on an Outer Banks barrier island. Many of the native animals can be seen wading through the marshes, or basking in the sun. Still in its original structure from 1875, the Currituck Beach Lighthouse is a little piece of history. The Outer Banks Center for Wildlife Education shares with visitors Currituck's coastal wildlife and traditions of fishing, hunting, and decoy making. It is conveniently located near the Lighthouse. While in the area, tour a Currituck landmark, the fully restored Whalehead Club. The Corolla Wild Horse Fund, in Old Corolla Village, offers a museum and shop. Learn about the history of the majestic, 16th century Spanish mustangs that roam free in the grassy dunes of Corolla. Corolla is the ultimate vacation destination.
Buck Island
One of the most exclusive subdivisions on the Outer Banks' Northern Beaches, Buck Island offers the finest amenities to enhance its quality homes. Just south of Whalehead Beach, Buck Island offers many amenities including; a swimming pool, tennis court, landscaped common areas & sidewalks. Truly a touch of class rarely seen in other developments.
Corolla Light
This ocean to sound community features a plethora of indoor and outdoor resort amenities for the entire family. Enjoy oceanfront comforts like, restaurants, a clubhouse, pools, a gazebo, a playground, and more. Some of the soundside amenities include: a picnic area, two pools, a baby pool, a pier and more. The sports center has indoor racquetball, indoor pool, hot tub and an array of fitness equipment. The Corolla Light Trolley provides transportation to the many amenities. Entertaining programs and planned activities are available and include everyone in the family. Corolla Light properties are located close to the Outer Banks' ample shopping and entertainment. Observe the wildlife by taking a stroll on the trail or after a day on the beach, play tennis on one of the lighted courts. For a true luxurious family getaway where there is something for everyone, book a stay in Corolla light.
Corolla Village
Historic Corolla Village is the road less traveled. Quaint southern lifestyle is what is experienced during a stay and it is a perfect location for Whalehead Club or Currituck Lighthouse tours. Shop in historic homes that have been renovated into boutiques and stores. Explore the natural Outer Banks from a guided kayak tour or boat tour. There is a little bit of everything that Corolla has to offer when spending a vacation at Corolla Village. Many adventures wait your discovery.
Crown Point
Scenic Crown Point provides a relaxing atmosphere for vacationers in a southern coastal community. Experience the local wildlife and scenic views while strolling to the beach on one of the boardwalk beach access. Crown Point offers a pool and tennis court and is located close to the shops and restaurants at TimBuck II and Monteray Plaza. Movies are near by, along with grocery stores. Since it is a family friendly rental, some homes are pet friendly. This is the perfect location for those who want easy access to the beach and are looking forward to the coastal experience.
The Currituck Club
The Currituck Club is a prime vacation destination. This prestigious seaside escape offers its guests southern living at its absolute finest. Beach amenities include: a trolley and beach valet service, beach gear and water sport rentals, and a snack shack, and more. The Currituck Club also offers swimming pools and baby pools, tennis and basketball courts, fitness center with personal trainers, trails, game room, security personnel, and more. Directly outside the community is the Harris Teeter Center with gourmet groceries, an ice cream parlor, and other shops. In addition, experience attractions in the area. Fulfill any golf craving with the 18 hole Rees Jones golf course, full of it own amenities. The course was rated 2004 Golf Digest Best Places to Play. The Currituck Club is a spectacular choice for family and friends.
Estates at Ocean Hill
Spacious lots and wide, beautiful beaches describes the quiet community of Estates at Ocean Hill. It is situated south of the Villages at Ocean Hill and offers the same scenic backdrop of the Atlantic Ocean's refreshing breeze and natural sand dunes. Not far from Corolla Village and Winks, this Oceanside community is close to the Currituck Lighthouse and Heritage Park. Some of the summer cottages have private pools to lounge by and enjoy. Estates at Ocean Hill offer much more to accommodate any vacationer's dream.
Indian Summer
For a more traditional feel that is close to the beach and ample parking, make any vacation seem a little longer at Indian Summer. The condominiums have a pool courtyard and are nestled in Section F of Ocean Sands, which offers enjoyment close to Corolla and Duck. Book a stay at Indian summer and take advantage of the BBQ grills and pavilion area with picnic tables.
Monteray Shores
To benefit from the sites of the tranquil waters of the Currituck Sound, enjoy a stay at Monteray Shores. Predominately on the sound, visitors can relax with views from the pier and the gazebo, or use the boat ramp to go out into the peaceful sound. To watch the rolling waves of the Atlantic Ocean and build sandcastles, beach access is only a short walk away. With lighted tennis courts, half court basketball, fitness room bursting of equipment, a playground, pool (kid's pool too), a stocked lake for fishing, and picnic area, Currituck offers many amenities for the active family. Try kayaking on the sound or take a guided tour. Monteray Shores plans nature walks, kite building and crabbing for the true beach experience. The clubhouse offers activities with pinball and other video games, a television, and pool table. All of these facilities and still close to entertainment and restaurants sums up a Monteray Shores family vacation.
Ocean Lakes
Ocean Sands' section O has amenities to fit any family's style. Charming Ocean Lakes, which is section O of Ocean Sands, offers its guests covered picnic areas, gazebo, tennis courts, Olympic sized pool (kiddie pool too) and of course the lake. Enjoy premier oceanfront, Oceanside, and lakefront properties in this neighborhood. With all the amenities, make sure not to forget to visit the miles of spectacular beaches with sea oats and other foliage, giving life to the animal inhabitants of the area. For a little bit of everything that Ocean Sands has to offer, with a twist, bring your family to Ocean Lakes for your holiday.
Ocean Sands
With its excellent location between Duck and Corolla, Ocean Sands offers all the entertainment and conveniences of two towns. Shopping, movie theaters, golf, and restaurants are all in the nearby towns. The sections of the neighborhood Ocean Sands are lettered from A-Q, each offering vacationers custom accommodations. Community water is available, along with larger, more personal lots for those staying in A-C. If tennis is a pastime, courts are accessible for renters in D, F, and H. Section F also offers community pools. A stocked, seven acre lake is perfect for the fisherman, and birds, deer and other wildlife can be seen among the foliage. With a short walk to the beach, Ocean Sands is an ideal vacation destination.
Pine Island
This northern beach community is the most popular upscale location on the Outer Banks. The finest homes reside here, each with their own expansive beauty. A complete amenity package compliments these fully equipped homes. Community amenities include; 3.5 miles of Oceanfront with access points within walking distance of all homes, miles of bike path, planned activities for children, two staffed pools (open Memorial Day to Labor Day), 25-meter oceanfront pool with refreshments, facilities with showers and seperate baby pool, oceanside pool (18×36) with BBQ grills and playground equipment, Pine Island Raquet Club with indoor, outdoor, clay and hard surface courts (fee is charged).
Spindrift
A gated and coded community with lots of privacy and uncrowded beaches. Spindrift offers community tennis as well as two community beach accesses within walking distance from every home.
Villages at Ocean Hill
Where the blacktop pavement and beach met, Villages at Ocean Hill provides its charm. Spend the day basking in the sun on the wide beaches or fishing at the Crystal Lake. Amenities are in abundance in this tranquil neighborhood. Complete with cardiovascular and combination exercise equipment, this community provides excellent workout opportunities. The community gives its visitors tennis courts, basketball courts, a playground, nature trails, and a lakefront and oceanfront pool. The most unique aspect of Villages at Ocean Hill is the Estuarine Sanctuary. Since the 16th century, wild mustangs have waded through the marshes and roved the dunes with the Atlantic Ocean as a backdrop. Banker horses are a breed descended from Spanish domesticated horses. Now feral, these animals, with gentle disposition, live in Corolla, where they are protected. Villages at Ocean Hill are an unforgettable experience for the whole family.
Whalehead Beach
Enjoy the three mile stretch of sandy beaches located at Whalehead Beach. Each lot is a spacious half acre, which gives vacationers a sense of seclusion. With five public beach accesses, there is suitable parking and easy access to the majestic Atlantic Ocean. Two of the beaches provide life guards. Some types of entertainment and conveniences close by include a movie theater, beach shops, golf courses, restaurants and even a grocery store. Whalehead Beach is an inviting choice for a vacation.
Duck
Named after the waterfowl that migrate though the area, Duck is a Northern Outer Banks paradise. With its four vibrant vegetative communities, Duck Town Park contains a maritime deciduous and evergreen forest, the willow swamp, and marshland. Complete with public sound access, the Town Park has a soundside boardwalk, trails of crushed bluestone, a playground, gazebo, and picnic area. They even thought of the family pet with a water fountain that has a dog friendly unit. There are summer events for everyone and an annual Jazz Festival in October. Town Park is a vacation within itself. Visit the U.S. Army Corps of Engineers Field Research Facility for a fascinating tour. Research conducted at this facility has helped gain knowledge about nor'easters and hurricanes.
There is a path through the town for biking, walking, or inline skating. The quant shops, art galleries, day spas, and fine sea side dinning are some of the unique features of Duck. As a consistent contender on the Travel Channel's America's Best Beaches, Duck is ideal for a family beach getaway.
Colony by the Sea
The stunning subdivision of Colony by The Sea in Duck offers many options for renters. In a serene location, experience spectacular views of amazing sunrises over the ocean and incredible sunsets over the sound. The Village of Duck is within walking distance and the beach is close by. Colony by the Sea offers comforts from home like a kitchen, dining room, and even a laundry room. Take advantage of the swimming pool and tennis and basketball courts. Other amenities comprise of a playground, volleyball and horseshoe pits, gazeboes, and the boardwalk leading to the sandy beaches. Enjoy a vacation at this subdivision full of all the necessities and more.
Duck Landing
In a central location, Duck Landing is between the Albemarle Sound and the Atlantic. Take a dip in the indoor heated pool (also heated kid's pool) anytime of the year! That is one of the many options to spend your time at Duck Landing. It offers weight/exercise rooms, tennis courts and a game room, all at the Oceanside clubhouse. Since Duck Landing is in a prime location, try to catch a glimpse of the sound on the short walk that will lead to boutiques and shops galore. After shopping, try one of the restaurants to enjoy a unique dinning experience. With the clubhouse and location, Duck Landing offers plenty for even the most energetic family.
Sanderling
Prestigious, luxurious and private are words to describe the Sanderling. A private soundside dock is just the beginning of the amenities received at this elegant getaway. The Sanderling captures the beach retreat at its finest. Nature trails present pristine views of wildlife. Between the nearby Audubon Society Nature Preserve and Corolla's attractions, Sanderling is situated among the Currituck Sound and Atlantic Ocean, making it simple to experience all the area has to offer. Outfitted with Tennis courts, soundside pool, and a basketball hoop, Sanderling community is also near allthe fine seaside restaurants, tranquil spas, and unique boutiques that can only be found in Duck. To fill a craving for elegance and amenities, reserve a getaway at Sanderling.
Schooner Ridge
Located in the village of Duck, Schooner Ridge, and its high elevation, gives guests captivating views. Due to location, it also prides many shops, restaurants, and entertainment right outside the community. The Private beach, which is offered exclusively to Schooner Ridge visitors, helps to create the ultimate beach experience.
Schooner ridge is packed with special amenities to make your holiday memorable. For the kids, the clubhouse has recreation video games, air hockey, and pool table. Maintain any workout routine with the exercise facility, including aerobic machines, free weights and much more. There is an outdoor pool that is oceanfront and a heated indoor pool. Enjoy an oceanfront view from the gazebo. For more of an exclusive vacation, make Schooner Ridge your destination.
Kitty Hawk
Chickahauk was the native Indian's term for "goose hunting grounds" and some believe Kitty Hawk is derived from that very name. With its 461-acre maritime forest reserve, Kitty Hawk features abundant assortment of native plant and animal life. Ocean Rescue, a division of the Fire Department,provides lifeguards and keeps the public informed on ocean safety so that visitors can enjoy the many public beaches. Kitty Hawk is a great option for golfers, with the Seascape Golf Course close by. In addition, there is plenty of shopping in the area at the unique beach shops and cuisine to please any food critic. Kitty Hawk is an exceptional vacation choice.
Sea Dunes
With great ocean views, Sea Dunes town homes are full of many amenities. Starting with racket ball and tennis courts to weight equipment and spas, the Sea Dunes also offers a heated pool from May to September. And that isn't all, sun decks and private balconies are available as well. These town homes have it all and are located right across from pristine lifeguarded beaches.
Kill Devil Hills
The oldest township in the Outer Banks, Kill Devil Hills is the center of the Outer Banks. The unique name comes from the band of rum found during the colonial period, from shipwrecks, said to be strong enough to "kill the devil". Kill Devil Hill is the site of the Memorial Pylon, commemorating the flights of 1903, when Orville and Wilbur Wright flew the first plane. The Wright Brothers National Memorial is located in this popular vacation spot, along with a wide variety of restaurants, shopping, ample public beach accesses, and night life.
Nags Head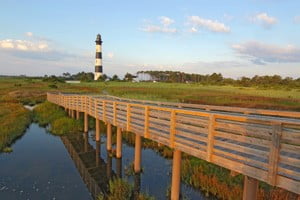 Legend of Nags Head is one of piracy. Mules were used to confuse passing ships. After tying lanterns around the necks of "nags" or mules, pirates would lead the animals along the beach at dark to trick the off shore boats into believing that the lanterns were lights from passing ships. This would cause the ships to run ashore, thus giving opportunity to loot and seize "booty" or treasures aboard the ship. When visiting Coquina Beach, see bits and pieces of the Laura Barnes shipwreck, visible from the beach. On a clear day you can see some of the shipwrecks from a plane, or snorkeling provides a closer look. Get a different view of the ocean from one of the three piers in the area: Nags Head Pier, Jeanette's Pier (under reconstruction), and the Outer Banks Pier.
Dolphins can be seen playing in the waves along with kayakers, windsurfers, and surfers. Climb the largest sand dune on the East Coast at Jockeys Ridge or hang-glide over top to admire the ever changing dunes. From the top of the dune, watch kites dance in the ocean's breeze and admire the Roanoke Sound and Atlantic Ocean. To learn more about the Ridge, visit the museum complete with exhibits. The Nags Head Woods Ecological Preserve provides acres of National Natural Landmark for many adventures. There are two parks in the town, the Dare County Recreational Park (with a soccer field) and Town Park, for an afternoon picnic. Both locations offer sheltered picnic areas. Rollerblade or bicycle along the wide path that runs along the road throughout Nags Head. Along with the rich history and numerous activities, Nags Head has many restaurants to choose from and shops with trinkets and souvenirs in abundance.
Old Nags Head Place
Just north of the Nags Head Pier and neighboring Jockey's Ridge Park, Old Nags Head Place is the location of magnificent homes. This newer community captures the characteristics of original Nags Head. The small park located in the center of the community has a serene path that leads to the picturesque beach, ideal for a leisurely walk. There are beach shops and mini golf putt putt courses with entertaining themes, in the area. This exclusive subdivision lies between Highways 12 and 158. Families can enjoy all of recreational activities that are close by.
Powells Point
Powells Point is located on the Mainland of Currituck County, just 5 miles from the Wright Memorial Bridge leading into Southern Shores & Kitty Hawk. Tucked away in family owend farm land and abounding with nature; Powells Point and the Currituck Mainland is surrounded with world class fishing and hunting. Currituck County's tranquil backdrop is the best of all worlds; the great outdoors at your doorstep and the beach only minutes away!
South Nags Head
To experience the exotic fish at the North Carolina Aquarium, the array of colors at the Elizabethan Gardens or the history learned at The Lost Colony, enjoy a stay in South Nags Head. The historic town of Manteo, on Roanoke Island, is just a short ride away and offers unique shops, local menu restaurants, and is home to many attractions. There is also Festival Park, which is on the waterfront in Manteo. The versatile aspect of South Nags Head also offers the fishing and boating activities close by at Oregon Inlet and Pirates Cove marinas. For a nature enthusiast, the Cape Hatteras National Seashore and Pea Island Wildlife Refuge are just a stones throw away. The areas are perfect for hikes, bird watching, and combing the beach for seashells. South Nags Head is a splendid choice for a vacation.
South Creek Acres
Near South Nags Head is the quiet, southern living of South Creek Acres. It offers the same attractions and convenience of South Nags Head with a residential feel. It Borders the National Park Service land. Water sports, such as parasailing, jet skiing, and windsurfing, are a familiar pass time in this attractive neighborhood. Take advantage of the community pool and tennis. South Creek Acres is ideal for a family get away or learning a new sport.
Southern Shores
The premiere residential community of Southern Shores is settled between the blue waves of the Atlantic Ocean to the Currituck Sound and Ginguite Creek. Southern Shores offers quiet cul-de-sacs and inspiring landscaping. The tranquil sandy beaches of Southern Shores are between Duck and Nags Head, so it is convenient for sight seeing. Shopping at the popular Duck Village shops and dining at restaurants are just round the corner. For leisurely activities, take advantage of picnics by the sound or a park overlooking the beach. For more sporty activities, explore the trails for biking or walking, tennis courts, and marinas. There are golf courses just a short drive away. Enjoy the aesthetic community of Southern Shores that will delight the senses and offer a number of amenities.