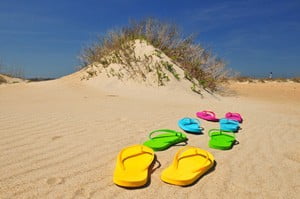 Ilona Matteson, licensed since 1997, has extensive selling, coaching, and speaking experience. Coupled with her experience in residential sales, resort sales, broker management, and property management, Ilona has a vast understanding of the real estate industry from a variety of specializations.
Ilona was an approved instructor by the North Carolina Real Estate Commission.
As the previous sales manager for Beach Realty & Construction in North Carolina, Ilona continues to bring a wealth of experience and knowledge to the sales team at Beach Realty.
In 2004, Ilona was selected for the annual 30 Under 30 feature for Realtor Magazine.
In 2012, Ilona became Beach Realty & Construction's 2012 Agent of the Year.
In 2015, Ilona again became Beach Realty & Construction's 2015 Agent of the Year.
In 2020, Ilona again became Beach Realty & Construction's 2020 Agent of the Year.
Ilona has an in-depth understanding of the real estate market, the changing conditions, and works diligently for her clients.
"I have extensive experience in the resort market including listing, selling and property management. I also specialize in working with Expired listings and helping For Sale By Owners."
Testimonials
DeAnna and I truly want to thank you for the excellent performance displayed by you in listing our home and so professionally handling the sales transaction. There could be no improvement in your accomplishment. It was superb!

From the first phone call you made to us, we knew we were in contact with a very different type of broker. Your real estate knowledge was impressive, and equally so were your people and situation skills. When a perceived exception arose, you so confidently put it in an understandable light and put us at ease.

You know real estate law, principles, and ethics. Most agents want the easy sales and only consider perceived commissions as success. You are very professional and realize that attending to the small transactions as you do, the large ones will also come your way and you succeed in all areas.

I have not recommended a broker on the Outer Banks during my years here, but I will now. I will highly recommend Ilona Matteson as the most pure real estate professional broker I've done business with in my years of personal home buying and selling.

I look forward to receiving phone calls or mailings from prospective customers seeking recommendations.
– Chuck Purser
My husband and I were fortunate to work with Ilona Matteson in November 2010 during the sale of our Duck, NC beach vacation/rental home. Upon calling it was very apparent she was very informed and could provide immediate statistics to back up her data. Once we listed our home she kept us informed delivering feedback from agents and prospective purchasers. We received TWO contracts within 30 days of listing our property with Beach Realty!

Ilona was there throughout the negotiations, inspections, and referring contractors as needed. We successfully settled and closed on our home on time in January 2011! We will continue to refer Ilona Matteson to our friends, family, and associates looking in the OBX area!
– David and Karen Freiheit
I found Ilona to be very informative, very friendly, answered all of our questions and if she didn't know the answer she found out for us. I don't think we could have found a better realator to do the job she did, told her what we wanted and she found it for us. Even today if we have questions she is there to help us out. Couldn't have gotten a better gal.
– Marion Lynch
Ilona was extremely patient while we looked at what seemed like every available property from Southern Shores to Duck. When the choice came down to two properties, Ilona helped us make the choice by suggesting we put ourselves in the position of future renters and asking which property we would then select – a simple but brilliant strategy that made what we thought would be a difficult choice very easy.

Ilona worked tirelessly with us long-distance to close on the property. She was instrumental in choosing a lawyer, surveyor, and insurance company. Once we were officially homeowners, her further assistance was invaluable in finding honest, reliable, skilled workmen for repairs and cosmetic improvements.

Her finest hour, however, happened when it came time to furnish a totally empty house. She suggested a wonderful local furniture dealer. The pieces were exactly what we wanted – top quality, great style and, to our amazement, very reasonably priced. We filled our house with lovely furniture well below what we expected to pay – help which was past the call of duty, but made the whole process that much easier.

As a realtor, Ilona completely exceeded our expectations. Her boundless expertise and inside information was an unexpected and extremely useful asset. She went far above and beyond just selling us a house. She treated us more like a friend or family member in the attention and care she showed us. It would be impossible to recommend her highly enough!
– Ed & Dianne Forder
Ilona Matteson provided us with exceptional service & customer care during our search for, locating, and ultimately, purchase of our new home in the Outer Banks.

Ilona was on top of her game. We initially saw over 12 houses in a two day period. She took our requirements and simply worked hard to deliver to us the right house. She took charge of the negotiations, worked with the selling agent to allow us to settle on the right price given the market conditions. Not only did she nail the price, she recommended Kelly Byrd at Wells Fargo, the attorney, Betsy Butler making the entire process work flawlessly. At times when I thought the entire deal would fall through, Ilona stepped up and made things happen. Her communication was critical in keeping the time line for closing.

I am not sure what Beach Realty and Construction does to recognize outstanding employees, but whatever it is, Ilona needs to be rewarded for putting the Customer First and for representing Beach Realty and Construction with integrity.
– Kevin & Jeanne Martin