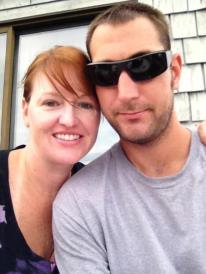 So we've been home from the hospital over a week now and it's been good to be home.  It's also been more difficult than I thought to manage everything I want to do.  I'm determined NOT to create excuses, but to create solutions.
The reality is Charlie has cancer.  He's not feeling well most of the time.  In fact a good day is now described as being able to get him to the bathroom twice a day without vomiting.  It's an ugly disease.  It's not welcome in my home or in my adorable Charlie.  In the midst of fighting this disease and eradicating it from our lives, the show must go on.
This is where the attempt at balance comes in.  The bills keep coming and my weight will come back if I'm not careful.  Especially with all the mouth watering foods we're receiving from all the wonderful friends and family we have.  This was so clear to me last Thursday.  I went for a training session with Matt for the first time in over 2 weeks.  It was hell.  I barely made it through 2 circuits in 30 minutes when a month ago I could have easily done 3.  I felt so defeated.
I realized right then that no matter what is going on in your life, you have to make solutions, not excuses.  I have to keep my physical health up, or I'm no good to Charlie.  I have to keep my business going, or I'll create another problem I don't need. So I'm determined to be in SOLUTION mode.
I've run every day since that failed training session.  I'm feeling good. I still have some doubts about finishing the half marathon in less than 4 weeks, but I'm just taking it one day at a time.  I'm also taking time each day to prospect and follow up with leads in my business.  I'm determined to stay on top.  I want it, I need it and I'm willing to EARN it.
I'm going to meet my goals for 2012.  Both my physical and business goals.  I have 15 pounds to lose and 4 more houses to sell.  And I will succeed. After all I'm best under pressure.  I've learned that much in my nearly 37 years. (Birthday is next week)
Without these solutions I can't balance my number one priority…taking the BEST care of Charlie.  He's my inspiration, my love and the most courageous person I know!