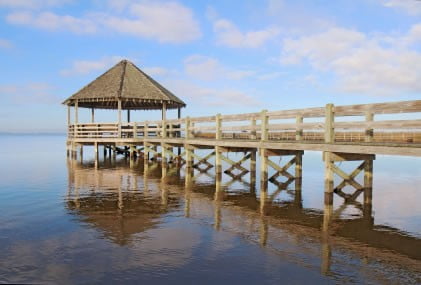 Corolla, NC is located on the northernmost reaches of North Carolina's Outer Banks and is located in Currituck County.  Corolla is a great place for a family vacation, weekend getaway or even year round living.  Getting to Corolla can be a challenge in the summer but well worth the drive.
Corolla has beautiful beach homes and condos, restaurants, golf courses, a variety of shopping destinations and something for everyone to enjoy.  For people looking for a more remote home and experience you can rent a home on the 4wd beaches.
While visiting Corolla you need to plan time to visit the Whalehead Club, Outer Banks Center for Wildlife Education, and the Currituck Beach Lighthouse.
No trip is complete without seeing the Corolla wild horses.   These Spanish wild mustangs roam free and survive in a coastal environment that used to be remote.  These horses are thought to have arrived approximately 500 years ago.   The only way to see the horses are in a 4wd vehicle and it is best to take a tour from one of the local companies as they know where to find the horses.
There are a variety of restaurants located in Corolla, from Seafood, Italian to barbecue.  Most restaurants you can eat in or even bring it back to your house to eat.    Corolla has two grocery stores and an ABC store so you can even prepare your own food if you don't want to eat out.  Be warned if you travel off season you will find a lot of these restaurants are closed for the season and the grocery store has limited supplies.
During the season Corolla has a movie theater and The Currituck Club hosts a comedy show and outdoor family movie night.  The Whalehead club offers daily events such as Wild Horse Days, 4th of July Fireworks, and a concert series.  New this year will be a weekly Lighthouse 5k series starting July 11th and going through August 1st.
Whatever you discover while visiting Corolla, you will make memories that last a lifetime which will have you returning year after year or looking for a place you can call home in Corolla, NC.